We offer personal trainers with unique backgrounds in movement. Each trainer is committed to work within the basic principles of Sim; Training, Behavior and Performance. By screening your fitness level and goals, you'll perfectly be matched with a personal trainer. Find your match and we'll beat your doubts together!
By assessing posture and fundamental movement patterns specific to your needs we can decide your starting point, and appropriate measures can be taken to reduce discomfort and prevent future injuries. The importance of attaining a high range of motion and control around the joints in your body cannot be overemphasized. It is a vital factor in improving posture, reduce the process of ageing, preventing injuries and optimizing your strength.
Gaining strength and optimizing our health and fitness, requires a consideration of all aspects of our lifestyle. Key components are: nutrition, recovery, rituals and stress. Ensuring that each of these various factors are addressed is vital in order to reach our full potential. 
Each sport or activity has a particular nature with specific demands corresponding to that nature as such. These specific demands can be optimized in a gym setting. Whether it is a long duration activity like marathon running, a power sport like weightlifting or a combination of both like breakdance, a fitting programme will substantially improve performance and reduce injuries.

Why train?
Move painfree

More energy (energized)

Gain strength

 

Build up cardiovascular endurance

Increase lean body mass (Loose or gain weight)

Improve

 

posture

 

Counteract the aging process (stronger bones, building muscle mass)

Reduce and release stress (better your mood and handle stress better)

Boost self-confidence

Prevent injury

 

Medically recommended (decrease risk of illness)

Sleep better

Better focus

 
Why personal training?
Goal orientated

Consistency & customization with a specialized training

Accountability

Variety and creativity

Learn life-long skills (professional approach to training)

Learn effective and efficient techniques (improve your movement patterns)

Long-term guidance and motivation

Break through plateaus

Set realistic goals

Establish lifelong exercise habits

Reduce risk and prevent injury

Maximize reward

Reach individual potential

Small group lessons
Soon available
Go to the Small group lessons page to see prices!
Personal training
€75per hour
Equipment ✔
Prof. trainer ✔
Location ✔
Personal Guidance / Advice ✔
Contact us for more information
Workshops and Seminars
Soon available
We will charge different prices depending on the type of workshop and seminar we offer. These will be shown in our news section.
Video call personal training
We now offer video Call Personal Training. Using Skype, FaceTime, Zoom or recent other applications. Each sessions takes approximately 60 minutes.
What does a Video Call Training look like?
Each session (approximately 60 minutes) varies depending on individual goals and abilities. (however a typical Skype fitness session will start with a warm-up. This will take for about 8-10 minutes as the trainer demonstrate the movements and technique and then complete our dynamic stretches and core activation exercises to prepare for the main workout.
Once we have warmed up, we continue with the 'main workout', which will last between 30-45 minutes. Working mainly with our body weight, we want to use this time to strengthen the muscles.
In the same way that a coach would do in the same room, we will correct your technique and posture if necessary. After the main workout, we finish with a 5-10 minute cool-down. Using static stretches aimed at making the muscles longer in order to keep full muscle functionality. During this time we discuss the training, progress, how the session felt, what you liked and did not liked etc.)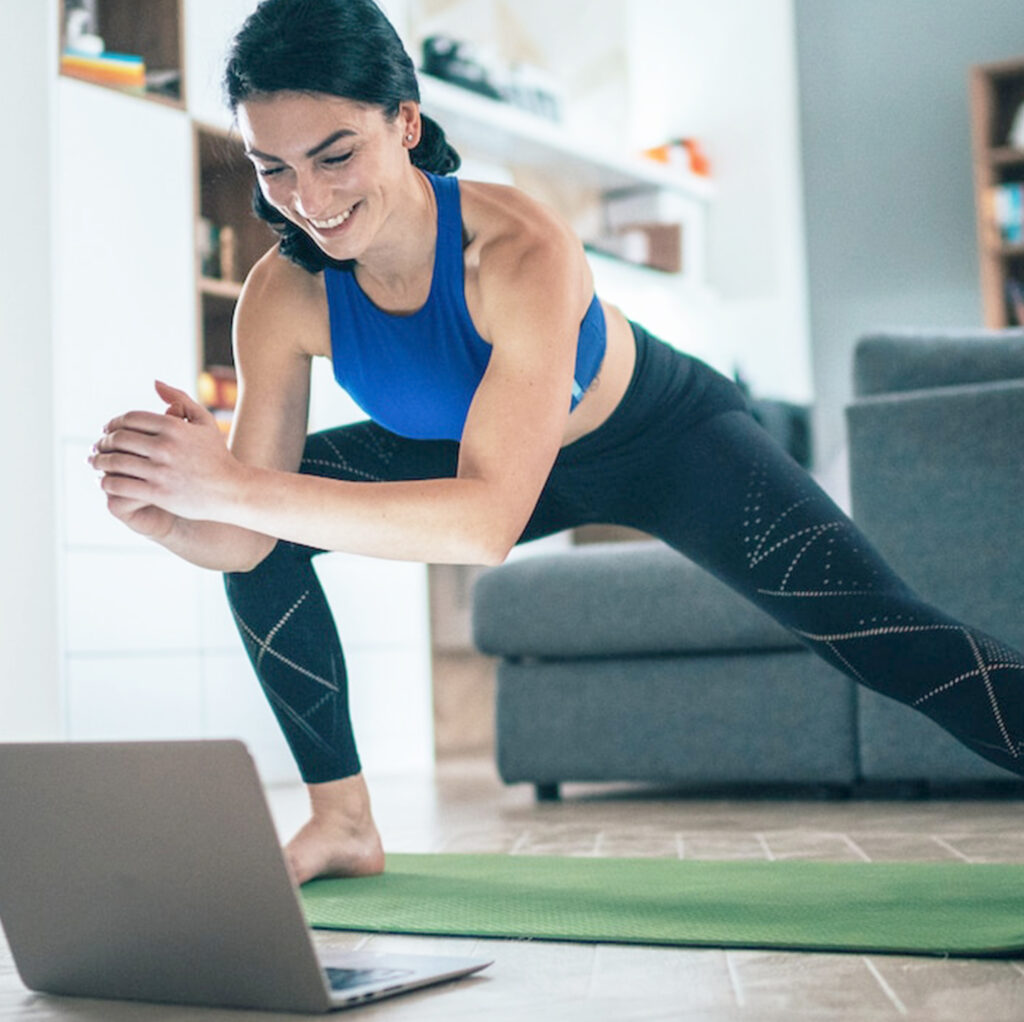 What do you need?
Some other tools might come in handy as well, such as; elastic bands, TRX, some weights. You can discuss this with your trainer. Basic needs:
Skype / FaceTime / Zoom ready device
Steady internet connection
Towel
Suitable shoes and clothing
A bottle of water
Fitness mat
Enough space
Recommended space requirements: 
Space is not usually an issue. For the majority of our clients we use the living room and tend to just push the coffee table to one side. Basic needs:
Enough space to lay down on the floor without touching any furniture
Enough space on each side to take two medium sized steps from left to right
Ceiling height enough to reach up without touching
Distance from the Skype / FaceTime camera so that you can see your feet and your head
If you have a good camera on your phone, it is also possible to use the Video Call outdoors
Interested? Call or e-mail us