Sim screening
During the Sim screening we will look at your needs and decide your starting point. The personal trainer will map out a long term route that fits your goals. If everything is mapped out the way it fits you, we start with our program. Our program consists of 3 elements; training, behaviour and performance. Scroll down to read more about our program.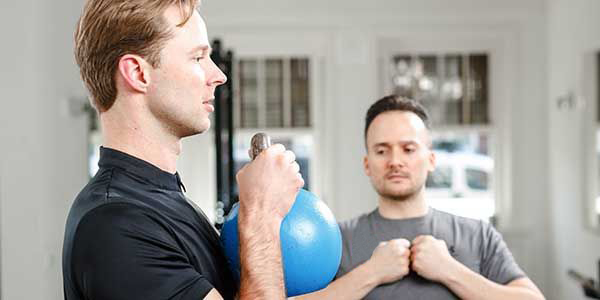 By assessing posture and fundamental movement patterns specific to your needs we can decide your starting point, and appropriate measures can be taken to reduce discomfort and prevent future injuries. The importance of attaining a high range of motion and control around the joints in your body cannot be overemphasized. It is a vital factor in improving posture, reduce the process of ageing, preventing injuries and optimizing your strength.
Gaining strength and optimizing our health and fitness, requires a consideration of all aspects of our lifestyle. Key components are: nutrition, recovery, rituals and stress. Ensuring that each of these various factors are addressed is vital in order to reach our full potential. 
Each sport or activity has a particular nature with specific demands corresponding to that nature as such. These specific demands can be optimized in a gym setting. Whether it is a long duration activity like marathon running, a power sport like weightlifting or a combination of both like breakdance, a fitting programme will substantially improve performance and reduce injuries.

Personal training
By using a personalized program we want to help you with reaching your personal goals, no matter what your physical background, level or age is. All the SIM trainers have different backgrounds and areas of expertise when it comes to training and performance. If you are looking for personal assistance we will start by analyzing your needs, movement- and behavioral patterns.
Group lessons
Our group lessons consist of condition-, rhytm- and performance training. We divide our group lessons in three stages: beginner, experienced and expert. Together we will see which stage suits you the best.
Education
SIM offers workshops in sharing knowledge about behaviour, training and performance. We want to share knowledge so people can understand the principals of a healthy, active lifestyle and enable them to make the right choices for themselves. 

Personal training
€70per hour
We work with freelance trainers and coaches who, depending on their level of knowledge and experience, have their own prices within the guidelines of SIM.
Group lessons
Soon available
Price will be soon available!
We will charge different prices depending on the type of workshop we offer.
Interested? Call or e-mail us